Maple Leafs defeat Lightning, end dynasty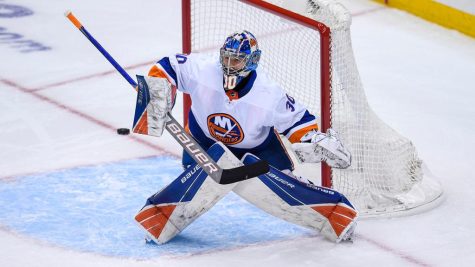 The Toronto Maple Leafs defeated the Tampa Bay Lightning 2-1 on Saturday night. With the win, the Maple Leafs win the series, beating the Lightning four games to two. For the Maple Leafs, it was a huge relief to win a series. They have not won a playoff round since 2004. They had lost their previous eleven games when facing elimination and had a ton of pressure on them entering the playoffs. After losing the opener in Toronto, the Maple Leafs  won games two, three, and four to get a three games to one lead in the series. After Tampa won 4-2 in game five, Toronto won game six 2-1 in overtime. Captain John Tavares, who grew up just outside of Toronto and slept in Maple Leaf pajamas as a kid, scored the overtime winner midway through the first overtime. "It's obviously special being a Maple Leaf and getting the opportunity to play for the club, obviously growing up in the [greater Toronto area]," said Tavares, who left the New York Islanders in 2018 to join his hometown team. "Obviously, you get a sense of the tradition and what it means to the city and the people. You know how big and how incredible Leafs Nation is. Really fortunate to be a Maple Leaf and play for this club."
Forward Mitch Marner had been criticized by fans and media for his play in past playoff series. With the win, it seems like he has silenced all critics.  "It was a little bit of a relief, for sure," Marner said. "Just to be able to get that done, but got to make sure we are ready because it just gets harder and harder." 
The only people more happy than the players are the city of Toronto. Fans stormed through downtown Toronto after the game. They climbed light poles, set off fireworks, delayed traffic, trashed the streets, and caused a lot of commotion. Here is a look at the celebration after the game.
On the other end of the ice, it is the end of an era for the Tampa Bay Lightning. They had advanced to the Stanley Cup Finals in each of the past three seasons, and won it twice in 2020 and 2021. They had won 11 of their past 12 playoff series and had not lost a series in the eastern conference since 2019(their loss in the Stanley Cup Finals was against a western conference team). Head coach Jon Cooper is well respected throughout the league for the job has done with this team. "I'm not going to debate who is the better team, they beat us four games to two," Cooper told reporters post game. "
Statistics say they were the better team than us, but do I sit here and think that we could have really done anything to change the tide? No. We played well enough to win this series. I think anyone that watched the series would agree with that." In the end, the Lightning were out of gas. They have played more hockey than anyone over the last decade. Their physical, shut down style, takes a lot of hard work and energy and ends up on the other side of the celebration. They suffered injuries to defenseman Erik Cernak, and others like Norris Trophy winner Victor Hedman played through injuries. Goaltender Andrei Vasilevskiy, who many consider to be the greatest goaltender in the world, struggled as well. The time has come for the Lightning and they are going home early. The Maple Leafs top players Auston Matthews, Mitch Marner, John Tavares, William Nylander, and Morgan Reilly played well.
Goaltender Ilya Sammsonov and trade deadline acquisitions Ryan O'Reilly, Jake McCabe, and Luke Schenn all made huge differences for Toronto. The Maple Leafs offseason begins as they have multiple free agents and little cap space. General Manager Julien Brisebrois will have to find a way to keep their key players and get them back to the Stanley Cup Finals. As for Toronto, they will be facing the Florida Panthers in game one on home ice Tuesday night.