Harry Styles grabs the attention of fans once again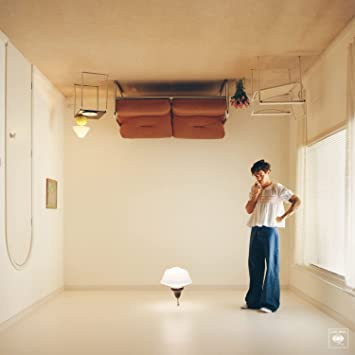 Harry Styles has been a musical artist since the beginning of his career in the boy band, One Direction.  Eventually, in January 2016, the band broke up and Styles, along with his other bandmates, Niall Horan, Zayn Malik, Louis Tomlinson, and Liam Payne, all went their separate ways. 
Ever since his part from the band, Styles has released two extremely successful albums, HS1 in 2017 and Fine Line in 2019. Fast forward three years later, he has publicly announced his third album, Harry's House, which should come out May 20, 2022. Harry Styles has reached around 50 million monthly listeners on only Spotify. This just shows how many fans Styles has. All of them probably have different opinions on his new album.
Will Harry Styles' new album be as successful as his two previous albums? After HS1 and Fine Line, people have their expectations set very high for Styles to succeed. Regarding the success of Styles' new album, eighth-grade EIS (Edison Intermediate School) student Melissa Weinberg explained, "100% it will be successful. Harry has a ton of fans and the album will get a bunch of listens." 
First, Styles has a huge fanbase who are very supportive of any career path he decides to take, whether it's acting, modeling, and more. Melissa is not the only one who believes Styles' new album has the potential to fly high. To go along with that, eighth grade EIS student Courtney Carew replied, "He will be successful because everyone loves his music. It makes you wanna party!" 
Styles' music has been popular since the beginning of his musical career, which is why fans at EIS have a very strong reason to believe the new album will be just as successful. 
Next, Harry Styles has a positive personality that rubs off on you. Also, he has a huge impact on people after breaking gender norms and being open about his sexuality. "He is great at pushing gender roles, like the Vogue magazine when he was wearing the dress," exclaimed sixth grade EIS student Wren Grass. 
If you are unaware of this, Styles was portrayed in a feminine way on the cover of Vogue's December 2020 issue. He wore a Gucci jacket and dress. This caused an uproar on social media and the entertainment industry. A man wearing a dress has always been controversial. The giant debate was whether or not breaking toxic masculinity was something that should be broadcasted throughout the world. However, it is clear that Styles' fans stick by him through thick and thin. EIS Spanish teacher Sra. Tara Rusignuolo shared her opinion on how she feels about Styles. "I love him! I think he is great and he is very likable because he is open."
Last, Harry Styles' music is popular not just because of who he is as a person, but how his music reaches to everyone in so many different ways. It is a variety of pop, rock, and soft music. This is why his fan base consists of people with different cultures, favorite styles of music, and even people living all around the world! "It sounds cool and I feel happy when I listen to it. The songs bring back old memories," seventh grade EIS student Emma Simpson revealed. 
In conclusion, Harry Styles has inspired so many people throughout the world and will continue to after his album is released. Fans are so excited to see how Styles will continue to have a successful career filled with love and support for others.