Harry's actions will never be going out of style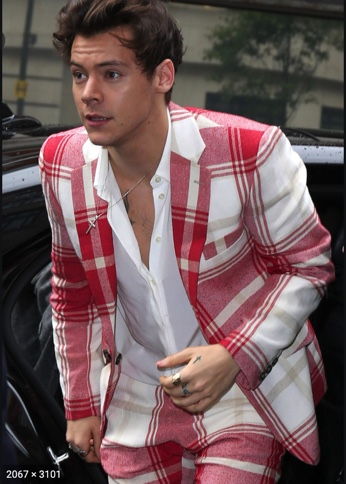 Twenty-seven year old British pop singer Harry Edward Styles has been taking over the nation this past year, with his award- winning music and actions that many call incredible. Harry was originally discovered on the show the X-Factor by Simon Cowell who placed him in a boy band known as One Direction. With other members being Louis Tomlinson, Niall Horan, Zayn Malik, and Liam Payne. However, in 2015, the band broke up and Harry has been going solo ever since. 
Harry Styles has created two solo albums since the hiatus of One Direction. These albums were known as Harry Styles 1 and Fine Line. Both of these albums have blown up worldwide and helped raise millions of dollars. In 2017, Styles went on tour for the record Harry Styles 1, where he helped to raise around 1.2 million dollars for over 62 charities worldwide. Many see Harry Styles as an inspiration to themselves and others around the world. Edison Intermediate School seventh grader Hanna Sclar expresses her feelings on pop star Harry Styles: "He has inspired me so much by his music. I listen to his music when I'm upset, it always makes me happy. His music has definitely helped me cope with things."
 Recently in December, Harry appeared on the cover of Vogue. Harry was the first solo man to appear on the cover of Vogue magazine. He made history. On the cover, Harry was wearing a Gucci dress and controversy was raised. Many believed he shouldn't be wearing a dress just because he is a male. While many others believe that this was quite an inspirational moment. Eighth- grade student Amanda Williams states, 
"I think it's great because he is showing how there is no clear feminine or masculine clothing. He is totally breaking the Fine Line of clothing diversity and I think it's awesome." 
People all over the world continue to support Harry styles and his bold yet strong actions. 
As Harry Styles continues to blur the line between masculine and feminine stereotypes, children all around the world are inspired by the British star. Recently a tweet went viral from an anonymous source stating: "My little brother saw a picture of Harry Styles with his nails painted & made me do this because he 'didn't know boys were allowed' we match now." Wearing rings, blouses and dresses can seem out of the ordinary to many people, but without an influencer like Harry Styles creating a style that is "out of the ordinary," no one would feel comfortable stepping out of the set stereotype.
 "I think everybody should feel comfortable expressing themselves. As long as that expression doesn't infringe on the rights of another person.  People should be able to be themselves and should be supported by those around them.   If that's how he best feels to express himself, it doesn't matter to me. If it helps him with his art that's the most important thing to me," Principal Dr. Mathew Bolton shared. 
Not only has the outbreak of Harry Styles's new style helped him to be more true to himself, but he has also helped others be more true to themselves.