Big idea: Shop small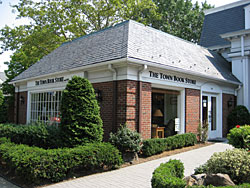 In the past year, the effects of the pandemic on small businesses have been put in the spotlight, and as countless family-run operations shut down, it's become more imperative than ever to focus on the local companies that have been integral parts of Downtown Westfield for dozens of years. While the teams and missions behind these businesses vary, they all add to the welcoming atmosphere Downtown Westfield has long been renowned for. It's impossible to deny the allure of these stores, and yet, ever since the twentieth century, brand names and giant corporations have held disproportional power in the industries they operate in. Historically, as an excess of options for everything from soap to soup began to flood the market, the media began to play a larger role in consumer decisions. Naturally, larger brands had the financial means to afford expansion into new marketing mediums, as well as invest in physical growth in the form of offering more locations and product options. Over time, these companies began to grow monopolies, expanding to such proportions that many smaller businesses were stifled. There's nothing inherently wrong with shopping at Target or Walmart, or ordering a pizza from California Pizza Kitchen for dinner; however, understanding the dynamics at play in consumer product and service industries is crucial to making the best possible decision for yourself and society at large. The number of locations a company has indicates nothing of the quality of its service and goods, and local businesses often offer a much more unique, enjoyable experience overall. 
The majority of small businesses specialize in a specific niche, which results in higher quality in the products sold. Additionally, the longevity many of these stores have, with some outlasting present day mainstream competitors, exemplifies the dedication behind the companies. Specifically, Westfield's downtown neighborhood features a collection of some of the best small businesses in New Jersey, including the Farmhouse Store, Baron's Drug Store, the Town Bookstore, Fresh Bui and Chocolate Bar.
The Farmhouse Store in Westfield, NJ, is widely thought to be one of the best local businesses in Union county. Everyone from grandparents to teenagers love the store for its wide selection of gift-ready goods and furniture that run the gauntlet between trendy and timeless. "I really like the unique things in there, I like the environment," EIS eighth grader Lila Martin stated. "It's very homey and welcoming. Overall, our downtown is like that."
 On the official Farmhouse Store website, the owners describe their company, stating; "Ultimately it's a family business.  What started out as a small American craft gallery fourteen years ago has now become New Jersey's premier independent gift and home furnishings destination. Ed Menapace did not start out as a retailer. His education and first career was in ballet. In 2007 Ed opened the first Farmhouse Store in a tiny storefront in Westfield, NJ.  It did not take long for word to get out that FHS (Farmhouse Store) was doing something completely new in retail by combining affordable and unusual American craft with a nod toward country design." 
The Farmhouse Store has been praised for its ever evolving product selection that highlights local and upcoming brands, rather than the mass-produced counterparts sold at competing chains. While the unique concept of the Farmhouse Store means that no one store is exactly like it, Target has a similar goal of offering a wide variety of items for sale. They, like the Farmhouse Store, offer jewelry, soaps and candles, among other goods. On the contrary to Farmhouse Store's selection of local products, nearly every item sold at Target is from a major company with multiple production locations and hundreds of employees. Logically, this decision makes sense; by selling only popular brands, Target has a steady and reliable profit margin. For a company with seemingly endless stores, the importance of consistency cannot be overstated. Additionally, major labels often have lower prices, allowing Target to have better profit margins and the customer to save money. However, this comes at a cost; most of the items found at Target are generic at best and forgettable at worst, while every item at the Farmhouse Store seems purposeful, as if it was individually selected by the store owner. 
This eclectic, welcoming feeling is what draws customers back to the Farmhouse Store again and again, even with slightly higher prices and none of the bells and whistles that a massive retailer like Target offers (shipping, a credit card with rewards, endless selection of goods to choose from). The Farmhouse Store doesn't offer these bonuses because it doesn't have to; the product selection speaks for itself. Walking into Target feels like an errand; taking a trip to the Farmhouse Store feels like a homecoming, as if you've stumbled onto the doorstep of a long lost friend. Everything from the products to the aesthetic of the design is warm and inviting, and the ability to capture the peculiarly wonderful sensation of hiraeth is what has kept the Farmhouse Store so popular in Westfield as countless other businesses shut their doors. 
Everyone who lives on the East Coast knows about the smoothie bowl sensation Playa Bowls. They sell everything from healthy smoothies, to cold pressed juices and you cannot forget the rave worthy açai bowls. Playa Bowls can be found almost anywhere in the Northeast, from the beaches to right in Cranford NJ. It is a chain restaurant with healthy food options, and the beach vibe and trendy decor make it a draw for the teenage crowd. It sounds pretty great until you hear the price point. A simple 16 ounce smoothie with nothing more than strawberries, bananas, and coconut milk is a whopping $8. Now let's talk about the lesser known, but incredible Fresh Bui. Fresh Bui is located in downtown Westfield, right next to Urban Outfitters. Fresh Bui offers the freshest of ingredients, hence the name, for a much much more reasonable price point. A 16 ounce smoothie at Fresh Bui costs only $5.75 and if you're a student, then $5.00. Fresh Bui doesn't only make amazing smoothies, but also açai bowls, teas, tonics, juices, white coffees, and more. It also offers authentic Malaysian food, which is hard to come by anywhere around Westfield. 
If that isn't enough to make you want to try this one of a kind of place, just take a look at the Yelp reviews. Fresh Bui has a whopping four and a half stars whereas Playa Bowls only has four stars. The customers writing reviews about Playa Bowls mention the high price point as well as the employees with attitude. Tara W. gave them two stars and wrote, "The decor is great but the staff is not. The employee stared at me while I'm looking at the menu. Then I ask if there is tap water or only water bottles (have been to other locations with tap water out). He was rude and snappy and just said 'bottles'. Didn't need the attitude. He then incorrectly repeated my order back to me twice and it took seven spellings of my FOUR LETTER name. It's not that hard. Was not apologetic at all. Just continued to have an attitude. The person in front of me ordered five bowls to go and they made them here. When she mentioned it they just pointed her in the direction of the lids and watched her box them all up herself." (Yelp). This exemplifies how chain restaurants will employ anyone, often just trying to get enough staff to fill the locations. 
On the contrary, Fresh Bui reviews on the food as well as customer service are impeccable. One person wrote, "Wanted to try the acai berry bowl and it was amazing." 
Another agreed and exclaimed, "OMG are you kidding me with this amazing food? This makes me so happy to have authentic Malaysian food and healthy drinks!!!! All so delicious!!! My new favorite place!!"  
Another satisfied customer wrote, "I get it, I get it – the people of Westfield love their Acai bowls, smoothies, and green juices. Fresh Bui does all of this extraordinarily well, with fresh fruit and unique flavors, remarkable service, all at a good price point, it is easy on the wallet and great for the body!"  
One more remarked on the prices and service, " I frequently come here for a smoothie every few days and the owners always know me by name, I love this type of personal customer service!¨ (Yelp). 
All of these outstanding reviews show the difference between the two restaurants. Playa Bowls has no connection to the customers and really only cares about if people are ordering. Fresh Bui is so grateful for each and every customer, as most small businesses are. All in all, Fresh Bui clearly demonstrates the difference between a small and large business competing for the same customers. What's the moral of the story? The next time you are craving a smoothie, support a small business, save some money and get better service by going to Fresh Bui! 
Another small business downtown in Westfield is Baron's Drug Store. Baron's has quite the history, first opening in 1936 by Gerson Baroness. She was a Westfield resident for her whole life, then decided to open up the pharmacy in 1936. Since 1936 Gerson has helped employ thousands of people, most of them first time jobs, and filled over 6,000,000 prescriptions. "I am a long time customer of this pharmacy and the team could not be more professional and pleasant to work with. As a prescriber and patient, I won't go anywhere else for my family's prescriptions" (Natalia G). 
Not only did Baron's start as a family business, they continue to serve families for years and years. They constantly fulfill the standards of the customers which as a result, keeps families going there through the years. Baron's is not only a great pharmacy, but also a one stop shop for gifts for anyone. They are able to supply an ideal gift for any age group. It also has a large draw to the middle school and teenage crowd due to the candy selection. "I had such a wonderful experience tonight. The sales lady that was managing the gift area was superb! She was very helpful and went the extra mile. I highly recommend them for their beautiful gifts and excellent customer service"  (Suzaane F). 
This expresses the way the sales people truly care about their customers, especially when they are a small independent business. Also, they want each and every person who walks through their doors to find exactly what they want and to have an enjoyable visit. Therefore, it causes people to talk about the happy experience and encourage others to go, that gives the small business more sales and publicity. 
Baron's is rated 4.6 stars on Google Reviews. Their services haven't waivered since they opened, and they have customers continually writing positive reviews. "Visited for the first time today and I can't say I've had an experience quite like it from a drug store. Prices were very fair, the staff was attentive and it's in a great location" (sthellman1). This customer was impressed with the service, something that not all pharmacies have. Baron's is single standing so they really are able to have that connection with customers and make sure they are happy with their visit. Larger pharmacies can hardly keep track of all the customers and their experiences. 
CVS is one of the largest pharmacies nationwide. CVS was first founded in 1963, Lowell MA. People can now find them all over the United States, it is the arguably most known pharmacy. Since CVS pharmacies are located almost anywhere, they are constantly having people walk in and out of their doors. This causes them to have many reviews, and not many good ones. On Trustpilot.com they are only rated 1.4 stars with 922 reviews. That is significantly lower than Baron's Drug Store. The most common complaint nationwide is the lack of customer service. "I have to call CVS every time I need a refill and wait nearly an hour sometimes. I would rather deal with the automated system but they won't let me. So I spend my lunch at work on hold and sometimes I have to call back the next day because no one answers. When I eventually am forced to go in person for the refill, I watch them ignore the phone the whole time. They have a staff of ten people in the pharmacy and not one person can answer the phone. The rate at which they work is the speed of a turtle racing a snail" (Mic Dooleys). 
Clearly, CVS only cares about having a mass amount of customers, and not the experience. This causes negative feedback  but because they are such a large chain with a huge customer variety, they continue to thrive when they should not. CVS also is known for unusually high prices on almost every item sold there. On the contrary, Baron's has much more reasonable prices for every piece of merchandise. All in all, when looking for great costs and friendly service at a pharmacy, look no farther than Baron's Drug Store. 
These days it seems as though everyone is looking for a way to pass the time, and what better way to do that than with an outstanding book. The Town Book Store is located right in downtown Westfield, and has been for 85 years! Over the years they have only had two locations, both located in Westfield and seven owners. ¨According to the original business ledgers on display in the shop, TBS (Town Book Store) first opened its doors on September 4, 1934. After operating from the same address for 72 years, we relocated across the street in 2007 to 270 E. Broad Street, the site of Westfield's first library. This location at the eastern gateway to Westfield's downtown offered easier parking, ample window space and greater visibility for the store" (townbookstore.com). It is no surprise that they have been open and striving for that long when you walk inside. Many people have called it "good, old fashioned bookselling," something that is very hard to come by in this day in age. They provide a wide selection of literature and can perfectly provide for a reader of any age.
The Town Book Store has been voted the 'Best Independent Book Store in New Jersey' in 2017. They are one of the only two independent bookstores still open in all of Union County. This makes sense considering the impeccable customer service and books to rave about. Yelp writes, "In today's rapidly changing retail environment, The Town Book Store remains one constant where shoppers can find a first-rate literary selection with friendly, personalized service in an attractive, convenient setting. Whether you are reading for escape, for comfort, to gain knowledge, for pure pleasure or as a source of lively conversation, visit or call us at The Town Book Store and they can match you up with the right book" (Yelp). This pretty much sums it up: the Town Book Store is timeless, just like a good book. 
Even though the Town Book Store deserves every reason to stay open and continue to satisfy customers, they do have a lot of competition. Barnes and Noble is one of the largest book selling companies to date. They offer options to purchase eBooks and Nook Books, something Town Book Store has yet to catch up with. With Kindles and Nooks becoming ever more popular, it is a large money maker. What Barnes and Nobles cannot compete with is the family and homey atmosphere of Town Book Store. TBS makes every customer feel welcomed and appreciated, something most chain businesses fail to do time and time again. "Paid extra for gift wrap and for a card with a note with an expensive book purchase for a special friend. Little or no attention was paid to the gift card; the requested note on the gift card was offset and illegible, and therefore not usable. Product was easy to order, shipping time was great, but trying to get in touch with B&N to resolve the gift card was a nightmare, and is still unresolved. I cannot recommend spending extra for wrap and card or trying to reach B&N customer service online. There was a 45-minute wait to call customer service; one has to open an account to reach them by email online" (Consumer Affairs). The Town Book Store also offers free gift wrapping with any type of purchase and very useful gift certificates which never expire. To sum up, The Town Book Store is like taking a step back in time to enjoy a good old fashioned timeless printed book, something very rare in the 21st century, and fancy eBooks and new technology cannot compete with 85 years of happy customers and great books. 
Downtown Westfield is filled with countless ice cream shops, but a local favorite is the Chocolate Bar, best known for their artisan gelato that comes in a wide variety of flavors. The owner is "Neil Grote, Jr. founder… of The Chocolate Bar, located in the heart of downtown Westfield, for over 16 years… Neil brings over 28 years of experience as a chocolatier to the shop, having managed a chain of gourmet chocolate stores in Boston, MA, before returning to his hometown of Westfield." 
The company has dozens of raving reviews online, with Veronica B on Yelp stating that she had "come here [the Chocolate Bar] a handful of times with my family and most recently with my bf and some friends. The gelato was delicious! Great texture, as well as flavor. Sherry was so funny! She had us cracking up the whole time, [a] very funny character. Overall, service was great and so was the gelato so you can't really go wrong!" 
Another guest stated that "This is a true gem in downtown Westfield and I can't believe I haven't been sooner. The gelato is a must try! Fro-yo ain't got nothin on this place. So creamy and decadent and they have over two dozen unique flavors. I couldn't decide on a flavor so I had 'The Works' which is vanilla gelato with Oreo pieces, rainbow sprinkles and chocolate chip cookie dough. It was delicious and a perfect treat on a hot day. I will be back soon to try the hazelnut and raspberry."
EIS student Victoria Marmarou agreed, adding that the gelato at the Chocolate Bar "was just as good as the gelato in Italy!" 
Additionally, Lila Martin stated that she loved "The ice cream, I love the Works and I love the experience of going with my dad." 
On the contrary, Cold Stone Creamery has mixed reviews, with many admitting that while they loved the ice cream, the quality of the food was inconsistent and the prices were exorbitant. With a three star rating on Yelp, Cold Stone is certainly a decent and enjoyable choice, and it remains popular during the pandemic. However, numerous reviews complained about the cleanliness of the location, which is concerning, especially during a global health crisis. Abby F. had a particularly regrettable experience, revealing that "When I received my ice cream there were two HUGE pieces of red hair in it! It was definitely not my hair, I have blonde hair!!! That experience was very scaring [scarring] for me. Now, I have PTSD every time I eat ice cream!!! They literally ruined ice cream for me. In conclusion they are overrated, rude, unsanitary, and overpriced! #NEVER AGAIN" (Yelp). 
While this customer should examine her trivialization of mental health conditions, her passion against Cold Stone cannot be questioned. With others stating similar issues, it can be assumed that while Cold Stone consistently produces high quality ice cream, they have a series of customer complaints leveled against them that need to be addressed in order for it to become truly remarkable. 
Overall, regardless of its competitors, the Chocolate Bar is more than a store; it's an experience, a memory shared by everyone who walks through the doors. From the service to the perfected recipes, the Chocolate Bar is a renowned yet approachable ice cream shop, and it's well worth the visit. 
As demonstrated in Westfield's assortment of small businesses, including the ever popular Farmhouse Store, Town Bookstore, Chocolate Bar, Fresh Bui and Baron's Drug Store, Downtown Westfield is filled with unique spots that can't be beat by any mainstream competitor. The combination of stellar service, handmade goods, and welcoming atmosphere keep customers coming back regularly, and the legacies of these family-run businesses are cemented for the foreseeable future. So remember to shop small, because not only will you be supporting family companies, you'll be investing in the type of businesses that are worth upholding.