Western Conference Finals preview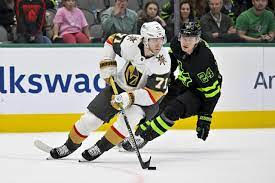 The Vegas Golden Knights will be playing the Dallas Stars in the 2023 Western Conference Finals. The Golden Knights finished the regular season with 52 wins, 22 losses, and nine overtime or shootout losses, good for 111 points. They beat Winnipeg in five games in the first round before knocking off Edmonton in a tough six game series in round two. They finished first in the Pacific Division. The Stars with 47 wins, 21 losses, and 14 overtime or shootout losses, and 108 points. They were second in the Central Division and beat Minnesota in six games in round one before beating Seattle in seven games in the second round. Vegas is in the conference finals for the fourth time in their six year history. Dallas is in the conference finals for the first time since 2020 and  are in their fifth conference finals. They are 3-1 and Vegas is 1-3.
Vegas had high hopes of getting back to the playoffs after missing for the first time in franchise history last season (2017-present). That was immediately put in jeopardy when it was announced that starting goaltender Robin Lehner would miss the entire season with hip surgery. With a vacancy in net, they went with 26 year old Logan Thompson. He played very well earning an all–star nod. In February, he went down with a lower-body injury and has played one game since. They acquired two-time Stanley Cup champion Jonathan Quick at the trade deadline and rookie Jiri Patera played two games. But they went with Laurent Brossoit and Adin Hill for the playoffs. Brossoit played extremely well in the first round, but in game three in the second round, he went down with a lower body injury.
Hill took over and was fantastic the rest of the way. With Brossoit not expected back for the conference finals, Hill will have to continue to play well. They have forwards Jack Eichel and Mark Stone. Eichel has 14 points in the playoffs and Stone has 12. Chandler Stephenson and Jonathan Marchessault each have ten. Ivan Barbashev, Reilly Smith, Brett Howden, William Karlsson, Alex Pietrangelo, Michael Amadio, and Shea Theodore all have five points or more. They have good depth and great defense. They are solid in their own zone, playing well in front of their own net. They play a tough physical style in the offensive zone. They get a lot of pucks to the net, creating rebounds and deflections. Bruce Cassidy is in his first year as head coach after spending six in Boston. He has made the playoffs every year as a head coach and can make quick in game adjustments. They have a great home crowd at T-Mobile Arena and are hungry to get back to the Stanley Cup Finals for the first time since losing to Washington in 2017-18. 
Dallas has made the playoffs in four of the past five seasons. After losing in the first round last year to Calgary, they dismissed head coach Rick Bowness and brought in Peter Deboer. Deboer has had a lot of success with his previous teams, especially in year one. The Stars play from their net out. They are one of the better defensive teams in the league, especially with Jake Oettinger in net. He has a 2.75 goals against average and a 9.03 save percentage. He was pulled twice against Seattle, but has been fantastic the rest of the postseason and is a big reason why the Stars are this deep. They have a great defense in front of Oettinger led by Miro Heiskanen and Ryan Suter. Another big reason is their depth. After struggling throughout the regular season, the bottom nine forwards have been great. They continue to lean on their top line that, since being put together at the start of the 2021 season, have arguably been the best line in hockey. Joe Pavelski had eight goals and ten points in the second round, including four in game one after missing most of the first round with an upper body injury. Roope Hintz leads the team with 19 points. Jason Robertson has 12. Behind them, Tyler Seguin, Jamie Benn, Max Domi, Mason Marchment, and Evgenii Dadonov have all stepped up, especially Domi and Dadonov since being acquired at the trade deadline. They play great defensively and have a solid offense. 
Peter Deboer, the head coach of Dallas, will be facing his former team. Deboer coached Vegas from 2019-20 to 2021-22. He led the team to two conference finals appearances. After missing the playoffs last season, Vegas fired him and Dallas picked him up. Deboer has made it to the conference finals in the first year with each of his four teams (New Jersey, San Jose, Vegas, Dallas). He has never lost a game seven in his coaching career and can be a huge advantage for the Stars if the series goes to game six or seven.
The series will begin on Friday night in Vegas. Games one, two, five, and seven will be in Vegas while game three, four, and six will be at American Airlines Center in Dallas. All games will be on ESPN, or ABC. They will also be on ESPN+. The winner will advance to the Stanley Cup Finals and play the winner of Florida-Carolina.