Winnipeg coach blasts top players after getting eliminated from playoffs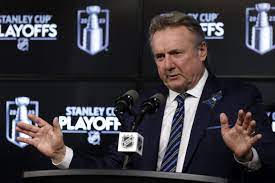 The Vegas Golden Knights defeated the Winnipeg Jets 4-1 at T-Mobile Arena in Las Vegas Thursday night. With the win, the Golden Knights became the first team to advance in this year's playoffs, winning the series four games to one. Winnipeg took the first game of the series 5-1. Vegas then took the next four including a 5-4 overtime win in game three, one in which the Jets had to come back from a three goal deficit in the third. Mark Stone and William Karlsson each scored for Vegas, while center Chandler Stephenson scored a pair. Kyle Connor scored the only goal for Winnipeg, a team that had a disappointing end to the season. On January 18, they had 59 points and were first place in the central division. The rest of the season, they had a record of 18-22-2, the 25th best in the league. They fell in the standings and ended up as the second w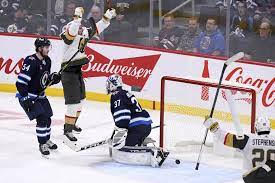 ild card, with 95 points. First year head coach Rick Bowness did not hide his disappointment after the loss, blasting the team and calling out their top players. 
"No push back," Bowness complained. "But it's the same crap we saw back in February . That's why as soon as we were challenging for first place and teams were coming after us, we had no push back." He then called out his top players saying that "Their better players are so much better than ours." The coach then abruptly walked out, ending the interview after just one minute.  Here is his postgame presser. 
Bowness definitely has reason to be upset with the way his team played in the game. His team was slower than the Golden Knights and struggled to create anything offensively. They relied too much on goalie Connor Hellebuyck, who finished with 21 saves on 25 shots. Throughout the series, the Jets lacked toughness, speed, and skill, and ultimately ended their season. One year after missing the playoffs, the same issues that caused that dismal season have come back and hurt them once again. With much of their core group starting to age, including 36 year old forward Blake Wheeler, 30-year-old Mark Sheifele, and 29-year-old Connor Hellebuyck, all of whom have had a tremendous impact on their team over the last several seasons, time could be running out in Winnipeg. 
On the other side, the Golden Knights have become the first team to advance in the playoffs. They were great throughout the series, pressuring Winnipeg, creating more chances, and playing much faster. "I think we played more and more solidly each game," Golden Knights forward William Karlsson said after the win. Karlsson had a good series with four goals and one assist for five points. Chandler Stephenson led the team with four goals and eight points. Center Jack Eichel, who played in his first career playoff series since debuting in 2015, has three goals, two points for five points. Laurent Brossoit, who was Winnipeg's back up goalie from 2018-2021, had a good series. He had 2.42 goals against average and a 9.15 save percentage.
The Golden Knights will face the winner of the Los Angeles Kings and Edmonton Oilers series. Depending on how the series goes (Edmonton's up three games to two), the Golden Knights will begin the second round at some point next week. As for the Jets, they will begin the offseason and will look ahead for another shot at the Cup next season.