A deep dive into Spring Break's Spain trip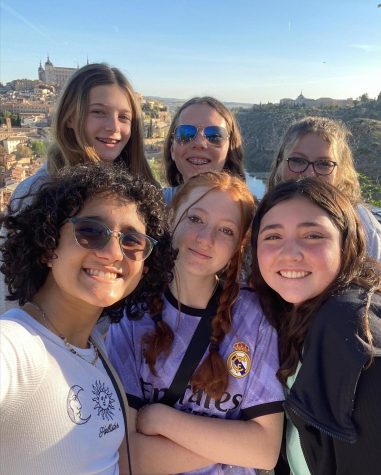 In the past, Edison Intermediate School (EIS) has been all around the world with their annual spring break trip! Last year, EIS flew across to Greece, participating in activities such as cooking, art, etc. However, this year, EIS students flew all the way to Spain, and visited places like Barcelona, Madrid, and the Enchanted City.! How did the full experience truly bloom into a time students will never forget?
In Spain, the culture is vastly different from the United States. Spain has deep connections to Western European culture and has hints of different cultures in all perspectives. because of this diversity, tourists love to engage in different activities that they don't take part in normally. As eighth and seventh grade ELA teacher Jessica Ciampa explained before the trip, "We are going to explore. Mr. Lazarow is really great at finding places that aren't really touristy, so doing things like a cooking class…we are doing an art class at an art museum.  We are also going to do a zip line." 
Eighth grader Emerson Bell added her input on what the trip would entail: "I think I will be at the beach and swimming because it's not on the itinerary, but they said if we had free time we could go. I think the zip lining would be really fun." 
Having fun is not the only goal for a trip. Learning in depth about the peoples culture is also appreciated. Seventh grade ELA teacher Mark Lazarow revealed, "My goal is for my students to gain appreciation and love for different cultures and different people so they can get a sense of what other people's perspectives are. I really enjoy seeing students grow their confidence to see them  grow as  people. Connect with kids at a different level." 
Sixth grader Blake Rios has similar ideas to Mr. Lazarow, "I would probably want to learn about the country, the culture and the people living there."
Eighth graders and staff aren't the only ones affected by the annual spring trips. People of lower grades of EIS have given opinions about the traveling experience. Seventh grader Serena Shih gave her thoughts and feelings about the trip, "It's kind of sad because I can't go but if I was going on it, I think I would be excited."
Sixth grader Sydney Espina  expressed her thoughts about people who are going on the Spain trip: "Just the experience of where to go and meeting new people and learning new things would be so fun."
Now, as the spring break trip came to an end, the students and staff have gained experiences and memories that they will always remember. Eighth grader Anna Victorino spoke about her most enjoyable memories from the expedition. "My favorite part was being on the bus and singing songs on the radio."
Eighth grader Olivia Meyers talked about what she took away from the vacation: "I learned about the culture and it helped me realize my improved Spanish skills. I think it should be known that not every foreigner should be expected to speak English, so it was fun to talk to people in their own language."
Finally, the EIS Spring trip comes to a close, as we now understand the cultural differences and roots from Spain. From art museums to ziplines, there are many more international trips to come! Next year, with the guidance of Mr. Lazarow and seventh/eighth grade science teacher Tamara Zuckerman, the 2024 spring break trip will be going to France and Switzerland.