Rethinking how picture day works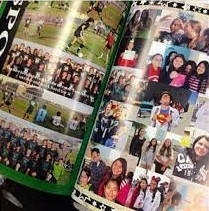 While many students may love dressing up and getting their picture taken on school picture day, the majority of interviewed students hate it. They find it stressful and annoying. Many students hate getting ready for pictures, and many of them have their pictures taken at inconvenient times like at the end of the day. When most people think about picture day, they begin to stress about various things-choosing clothes, perfecting their smile, having a camera shoved in their face. Something that makes picture day significantly worse is that students can't see their picture until it is already printed. Then it's too late, no matter what picture was taken, it's already out there. It's in the yearbook, in the parents portal, on your school ID card. Everywhere.  
Eighth grader Katelyn Tacktikos stated,  ¨Picture day makes me feel annoyed I hate it because the picture people are rude and I hate getting my picture taken.¨
Katelyn is not the only person who hates picture day. Seventh grader Ian Dickey said, ¨Picture day makes me feel horrible because it is bad. There are no benefits.¨
By the time pictures are taken, many students hair is already messed up or they don't look as good as they would have in the morning. To make matters worse, many students have never gotten back a picture they liked. This could have been prevented if people are able to see their picture directly after it was taken and offered a redo. As sixth grader Ian Meade claimed, ¨I've only my school picture that I've gotten back  like three to four times since I started school.¨
One out of ten students interviewed said they enjoyed picture day and liked the outcome of their picture. Many students feel having picture day during their gym period is unfair because some students have gym last period and don't look as good. ¨I don't really like picture day because we missed gym picture day should probably be in the morning like in homeroom or in first. I like my picture this year, but not last year. I think you should be able to choose it because it's going to be in the yearbook forever," Roshan, an eighth grade student said.
Many students don't like the need to get dressed up, like sixth grader Cailin Akselband who claimed, ¨I don't like pictures. I just don't like dressing up. I don't think there are any benefits besides you get to see how much you grew up.¨
When asked about the benefits of picture day and what redoing a picture effects, school secretary, Mrs. Holly Petrie, the organizer of picture day stated, ¨The benefits of picture day are for the yearbook. I don't think the BNL charges extra for picture redos. I think students should be able to see their pictures first. If you need a second one in that sitting, you should be able to get one. It will reduce the number of retakes if kids can see their pictures before they leave the area.¨ 
This demonstrates that there is no difference in cost if they let kids see their picture and retake it all in the same day. Dr, Bolton, EIS principal, stated, Students should have an option to retake pictures. You want to have the option of seeing your picture on picture day in case you blinked or something, Retakes at the same appointment will save the company money because they won't have to pay to print as many pictures.¨ 
When asked how picture day should run, seventh grader Ava Tankard said, ¨You take a picture, and they show you the picture. The benefits are your parents get a nice picture of you.¨ 
In conclusion there is no logical reason for students to be prevented from seeing their pictures right after their photo is taken. It will cost the photo company less because they won't have to pay for the reprints when people who don't like their picture that were printed. There is no cost difference if students retake pictures on the same day. This change may increase the amount of students who enjoy picture day and will also make people like their picture much more often.