Jump down the rabbit hole with cast and crew of Alice @ Wonderland
It is off with all of their heads! Edison Intermediate School (EIS) has performed fall dramas since 2003, and the latest show was Alice @ Wonderland. It is a modern retelling where 14-year-old Alice falls down a rabbit hole to Wonderland and is forced to interact with crazy characters to try to get out. Both the cast and crew put in many hours practicing to make this fall drama magical. According to the actors, EIS shows are valuable because they unite the students as a community; everyone is equally represented and everyone including the teachers puts in so much time and effort.
What an audience sees when they go to a show is dazzling and amazing. However, not many people know the hard work that goes into the show other than the people involved in the show. A few members chose to share their experiences, starting off with Lauren Roszak who played the role of Alice. Lauren explained, "This show was an amazing production filled with [actors] who are so committed. We worked so hard over the weeks before the show!" 
The show taught students how hard work ends up with positive results."I truly liked seeing everything come together. It made everyone, especially myself, feel so proud of what we did." stated eighth grader Regan Stevens who played Tweedledee.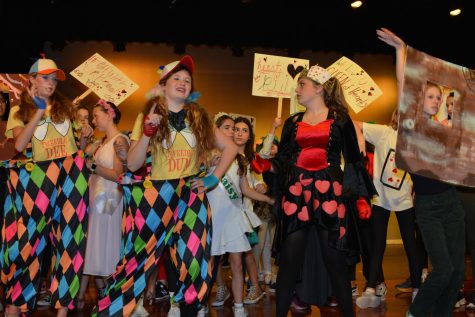 Eighth grader Emma Simpson, who played the Fish Newsie, responded, "The show was extremely fun! I made a lot of new friends and really stepped out of my comfort zone." 
According to the actors, the EIS shows are places where students can just be themselves. Seventh grader Rylan Bowie, who was Humpty Dumpty, said, "It's really fun watching kids do what they love." 
The show becomes a kind and safe community for everyone. "It is a really positive [space]! I get to have fun and hang out with all my friends!" seventh grader Julia DeFilipps, who played the Queen's Guard, shared. 
Everyone makes new friends and really becomes a sort of community. "You'll become friends with people you could never have expected…talking to people that you never knew before," revealed Lily Shackert, a seventh grader who played the King of Hearts.
No matter what grade you are, you can still join in on the fun! "It's great! There's lots of old friends and new ones that I met that I get to act with," said sixth grader Madelyn Koelhoffer who played the Queen's Guard. 
Sixth grader Erin Young, who was the Frog Newsie, stated, "I loved it! I've met so many people and made many friends."
Overall, the EIS shows are a lot of fun and every student can enjoy them. "The show was awesome!  It was really funny!" informed eighth grader Maddy Cortes who was the Queen of Hearts.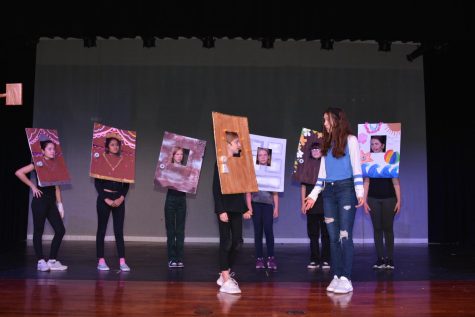 The cast is important, but nothing would happen without the hours that the crew put into putting the show together. The crew does everything from advertising, creating the costumes, helping create scenes, making the art and sets for the show, moving the sets around, managing how everything fits together, and generally making the show run smoothly. Stereotypically, the crew is forgotten and the cast gets all of the credit in a performance. In an EIS show, however, this is different. "I like being in the crew because I can be an integral part of the show without being in the show!" stated Madeline Schlitzer, Stage Right Manager of Alice @ Wonderland in eighth grade. 
Being on a stage crew is different from being an actor while still being enjoyable. Sixth grader, Austin Hsieh a non-show affiliated sixth grade student replied, "I'd want to be [part of] stage crew as an [assistant director] if I was in it." 
The show is a space for everyone in both cast and crew to be friends and spend meaningful time together. "I might do the musical because it's[also] pretty fun," said eighth grader Joel Hoffman. 
Seventh grade student Natalie Diamond who is not currently in the show added, "I think the musical is going to be entertaining and funny!"
The students pour their hearts and souls into the show, but no one knows the dedication it requires to make the show like the teacher themselves. Starting off with the beloved Principal Dr. Matthew Bolton. "I loved it! I know a little more than the general audience about the time and effort that goes into these shows. The fall drama was totally student-run and student-led. I think that anything that can connect with you as a middle-schooler is a good show in my eyes."
 No one knows more about the behind-the-scenes than the run crew manager herself, Mrs. Emma Friar. "I love the show community. It's truly a great experience. You get to have fun, make new friends, and show a different facet of yourself."
Everyone owes so much to Mr. John Scozzaro who was the head of the sound crew. "It's been great. It's always wonderful seeing the number of people in this. My crew is great and they've pretty much taken over. I love how it's a modern twist on a classic story. I encourage students to see the show. The EIS shows are phenomenal and rival most high schools."
Finally, ending with the director himself, the man responsible for all of these shows, Mr. Michael Altmann. "It's been amazing and I love every second of it! I've been doing the show since 2003, and I love working on these because the shows are for the kids and they speak to who the kids are. I love what I do, but afterschool, I get to see kids coming out of their shells and enjoying themselves!"
The shows are such a positive experience for everyone. Many people believe that the show is "amazing" to be in and participate in again and again. Feed in the magic of wonderland. The cast, crew, and teachers put so much of their time and effort into creating a quality Fall Drama for you. Everyone can agree that they are all 'mad' for Alice @ Wonderland!