Bohemian Raspberry says its final goodbyes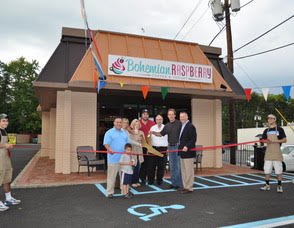 After celebrating their 10th anniversary, the frozen yogurt shop, Bohemian Raspberry, has officially closed its doors for good. Bohemian Raspberry is a local frozen yogurt shop that has been thriving since 2012 after owner Barry Goldenberg decided to take a leap and start a business that later became a big success. 
After speaking with the business owner, Goldenberg explained, "It was done as a lark, just sort of a little adventure.  We originally were going to buy the car wash next door, but my parents had gotten sick, and we kind of  delayed the sale. When we went back to buy it, the owners didn't want to sell it. So, we rented this building where we are right now. We decided let's put something in, and we thought, 'oh yogurt might be a fun thing', so we put yogurt in here, and that's how it started."
Bohemian Raspberry is known for their various unique flavors of frozen yogurt and their variety of toppings. Many students at Edison Intermediate School (EIS) expressed their concerns, as they won't be able to enjoy their favorite flavors at the store anymore. Sixth grader Alex Natt loves to indulge in the salted pretzel frozen yogurt, and seventh grader Hannah Doll prefers to enjoy the classic vanilla frozen yogurt and later adds a mountain of tasty toppings.
The EIS community is both shocked and saddened about the closing of this local business. When asked about his feelings on Bohemian Raspberry closing, Special Education teacher Mr. Richard McNanna explained, "I'm shocked. I did not know the store was closing. It was my son's favorite place when he was three years old."
Students are also against the closing, as eighth grader Katherine Riley expressed, "I'm really upset about it closing because it holds a lot of memories for me, like at my elementary school we would go there after every event."
Not only does Bohemian Raspberry hold memories for the community, Bohemian Raspberry has become a part of many people's traditions. For example, eighth grade math teacher Zachary Crutcher said,  "I love Bohemian Raspberry, whenever my wife and I would go on a date in town, we would always get Bohemian Raspberry afterwards. It was one of our traditions. It makes me sad that we won't be able to do that anymore."
As for eighth grade student Lacey Wagner, Bohemian Raspberry became a tradition for her volleyball team after games, and it was a great spot for team building. Seventh grader Norah Cabral also explained that she loved going to Bohemian Raspberry every Friday with her friends.
Owner Barry Goldenberg acknowledges the town's feelings, but he explained that the decision on closing the store was not his to make. Instead, the business is closing due to their lease ending. Goldenberg is hoping to reopen, but finding a spot for him to do so has been a challenge. Barry Goldenberg explained, "If we could find a location, we'd think about it. Right now, I'm looking, and I couldn't find something that was suitable. We have almost the perfect location here. The best thing would have been if  we could renew my lease, but that didn't happen."
The store was last open to customers on Saturday, October 29th, but the community is still anxiously waiting for a new location of their favorite frozen yogurt shop.