Leafs have 'best effort of the season', send series back to Toronto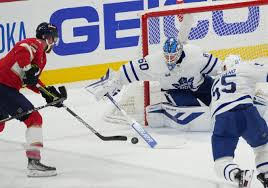 The Toronto Maple Leafs defeated the Florida Panthers 2-1 on Wednesday night, and will force a game five in Toronto on Friday. Toronto, down three games to none, had their backs against the wall. They came out and played fast, aggressive shut down hockey. Many Maple Leafs fans who had criticized the team for their play through the first three games, were pleased with the effort. As was head coach Sheldon Keefe.
"I thought it was our best effort of the season all the way through, from start to finish. There was no real letup,"Keefe said. "Our competitiveness defensively and our urgency defensively was the best it's been all year. It was an unbelievable job by our guys here tonight."
Joseph Woll started the game for Toronto. He replaced Ilya Samsonov, who left game three with an upper body injury. In his first career playoff start, Woll, who is considered the franchises 'goalie of the future' made 24 saves. Mitchell Marner and William Nylander scored for Toronto. Neither, along with center Auston Matthews and captain John Tavares had scored in the first three games for Toronto. 
"I think just knowing what we're capable of. We hadn't gotten up to our standards," Nylander said post-game. "If we battle, we have a chance against these guys."
 The Panthers, who defeated the Bruins in seven games in round one, had few worries and little doubt post game, with head coach Paul Maurice joking around with the media. Center Sam Reinhart didn't seem worried either.  "We had an opportunity to win a game tonight," he said. "We were close. They're a good team over there, too. We've got another crack at it in a couple days."
Game five will be at Scotiabank Arena on Friday night. Florida can  punch their ticket into the eastern conference finals for the first time since 1996. As for Toronto, the pressure will continue to build as they  will once again try to extend their season.