Steelers show potential and talent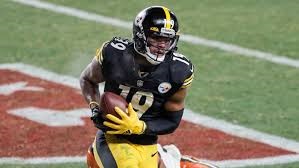 Shutout after shutout, blowout after blowout, the Pittsburgh Steelers are not a team to mess with. After an amazingly strong start to the season they have shown true potential and talent to go all the way to the Super Bowl. Some of the multiple great things about the Steelers is their ability to persevere and overcome obstacles that come in their way, their show stopping defense, and their coaching staff that leadss them to victory. 
To start off, the most essential part of a football team is the coaching. Lead coach Mike Tomlin has been with the Steelers for multiple years and has shown great leadership skills. He has led them to become a top team in the league during numerous years with his coaching ability and is doing the same this year. Without a Coach like Tomlin no football team will make it no matter the talent. What separates Mike Tomlin from the rest is he that has not yet led the Steelers to a losing season. He does this by making sure he has all of the right assets to the team. Not just by having good players but also by having good players that fit the team on and off the field.  He does this by using his past experiences with other teams to fuel his leadership and help his team become what they are today. Mike Tomlin likes to always be prepared for the worst, so if one of his players gets injured, he is always sure to have a good backup so the team won't struggle. For example, the Steelers starting quarterback, Ben Rothelsburger, usually gets injured for a couple of games throughout the season, so they have a strong backup Mason Ruldolth to step up. Mike Tomlin day in and day out creates a good system for his players to work off of to become better. This leads to how he prioritizes defense over offense and is not willing to let up any points. 
Although they have a great coach, a good football team still can't be a great team without the right players. It is clear that the Steelers want to win the super bowl, and one thing that needs to be known is that "Offense wins games, Defense wins championships." A strong defense is exactly what they got. To start off, the Steelers have a great run stopping defense. Rising star T.J. Watt has 11 sacks and one interception this season and with other valuable players surrounding him, such as Cameran Hayward and Stephon Tuitt, their run defense is almost unstoppable. Derrick Henry, who is arguably the best running back in the league, was stopped by the Steelers defense. He ran the ball 20 times for 75 yards, and caught the ball for -3 yards. For comparison, Derrick Henry's stats in the last game he played were 178 rushing yards and 3 touchdowns! They are also great with passing defense with players like Minkah Fitzpatrick. The Steelers defense has a whopping 41 sacks and 16 intercepts. With the Steelers mighty defense, they are a team that no offense wants to play.
Another feature that makes the Steelers so strong is their offense. While many believe that their defense is what makes the team good, the offense holds its own. Starting at quarterback is Ben Roethlisberger otherwise known as Big ben. He has been with the Steelers for a long time and he shows no weakness.  To help him out he has four really solid wide receivers, including Juju Smith-Schuster, Chase Claypool, Diontae Johnson and James Washington. All have shown great talent and potential. To complete the offense they have a strong running back in James Connor and an offensive line that makes sure the quarterback stays protected. To show how this offense comes together some of the stats that stick out are, first in total first downs and third in third down conversions out of all of the teams in the NFL. They also are first in first for drawing the defense offside and fourth in fourth down conversion. This shows how dominant the Pittsburgh Steelers really are. 
The last key to them being the most dominant team in football is their strong relationships on and off the field. Wide receivers such as Chase Claypool and JuJu Smith-Schuster are seen dancing with the whole team and just making impressive relationships with the whole team. This helps build chemistry and allow for the Steelers to be this good of a team. Whether it's offense, defense, or special teams the Steelers are a great team and they get wins together and always have each others back.