Westfield's Vicki's Diner hit hard by pandemic
Vicki's Diner is, without a doubt, a landmark of Westfield. Almost everyone in the town remembers running into an old friend checking out, celebrating a recital or sports game in the big booth by the window, or simply enjoying a pancake for breakfast. The timeless feel and the delicious food is what keeps customers coming back. The owner of the diner, Helen Rentoulis, shared the diner's long history in Westfield.
"We are here 21 years, the owners before us were here 15 years. Before that, it was Town Lunch. Honestly, ever since the 18th century, it's always been some kind of food, or candy shop, or meat market through all those years," Mrs. Rentoulis explained. "Vicki was the owner before us, and when Peter and I bought the diner, we had a partner. The partner couldn't decide on a new name, so I suggested that we leave it alone! Don't fix what ain't broke!"
Mrs. Rentoulis described some of the issues that she and her husband, Peter, encountered over the years running the diner. "Almost 80% of our clients use credit cards and we have to pay exorbitant fees, so that's a real drag on the business," Mrs. Rentoulis explained. "My husband, Peter, is an immigrant, so he hires immigrants with potential and he moves them along. Everyone in the kitchen started as a dishwasher or a bus boy."
Thankfully, the diner didn't experience many of the shortages that other businesses around town experienced. They already followed strict protocols determined by the board of health, such as frequent hand washing and sanitizing.  They obtained masks and gloves for the employees and put up plexiglass barriers throughout the restaurant.  Still, limited indoor dining regulations forced them to move the business outside. Unfortunately they lacked adequate outdoor space.  Mrs. Rentoulis shared ¨When we first started, we only could have two tables outside because we had very little frontage. The door is narrow, so thank God my neighbor at Akai lets us use her space during the day because she chose not to open at lunch, so during the day, we use their space, as well as our own, and the town was gracious enough to put in a parkelette (a concrete divider where there would normally be parking). That space we can utilize for tables as well.¨  
In addition to the help from the town and her neighbor, Mrs. Rentoulis also expressed gratitude for the support from the Westfield community, specifically referencing the GoFundMe that raised over $40,000 to help keep the diner afloat. ¨Oh my god, let me tell you something: By the grace of god, I have met the loveliest people in my life. People that barely knew us set it up and didn't even tell me… Believe me when I tell you it was absolutely imperative that we got that money. Business was so low that we could hardly make ends meet. Peter and I are the last to get paid… we went through all of our savings, we went into our home equity loan, our at home equity line, for cash, so thank God for that fundraiser… Honestly, it was a blessing.¨ 
Looking ahead, Mrs. Rentoulis fears more restrictions as COVID cases rise.  ¨It has already crippled us… now that the winter is coming, God only knows what is going to happen.  Numbers are going up and they may decide to close inside dining and then what?¨  She notes that heat lamps are expensive to purchase and maintain. Mrs. Rentoulis encourages people to follow health guidelines and wear masks in an effort to prevent further spread of the virus.  ¨It's not easy right now to be in business, it really isn't.¨
About the Writer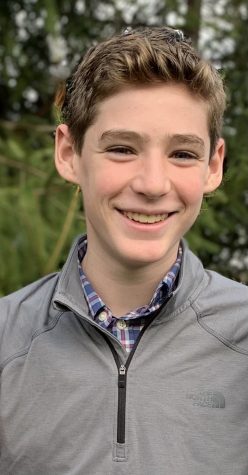 Michael Fisher, Writer
Michael Fisher is a 13 year old writer for the Edison Insider. He enjoys writing and swimming and is an active member of the EIS SGA. Michael likes his...