Athletes clinch spots in the draft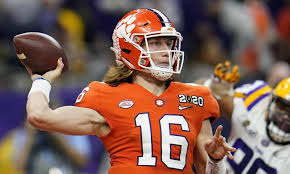 Every year top college players compete at the NFL (National Football League) Combine. This helps showcase their strengths and weaknesses to NFL teams to help them get drafted. 
The NFL Draft is one of the biggest nights in football. There are two draft nights, where players get picked by the NFL teams that they will be on for their first season. 
Draft picks depend on how good teams do in the season. Whichever team does the worst will get the first pick and whichever team wins the Super Bowl gets the last pick. Teams are able to trade current players for extra draft picks so they can pick up extra players for their team. 
This year's graduating class is a great one. Trevor Lawrence, Justin FIelds, and Penei Sewll are just a few of the names that you will see in this year's draft. NFL teams will fight to bring these players to their team during the draft. The number one prospect of this year's draft is Trevor Lawrence from Clemson University. "I think Trevor Lawrance will be the first pick this year. He brings so much to Clemson and I can see him doing very well in the NFL," explained Archit Palit, an eighth grader at Edison Intermediate School. 
All eyes are pointed towards Trevor Lawrence to see what team he ends up playing for. So far this season the New York Jets and Jacksonville Jaguars have the worst record and one of them will likely end up with the first pick in the draft. Trevor Lawrence is bound to be picked up by one of these two teams. In addition, other stars like Ja'Marr Chase, Micah Parsons, and Justin Fields will most likely end up being selected in the first round. 
Earlier this year, the 2020 NFL Draft had to go virtual because of the COVID-19 pandemic that the nation is currently in. Since the pandemic is still going on, plans are still up in the air for whether or not the draft will be virtual, since there is talk about an upcoming vaccine. COVID-19 didn't just affect the draft though, it also affected players and their gameplay.  According to the National College Athletic Association (NCAA), "The ACC is playing an 11-game schedule for the 2020 college football season."
College teams normally play a 12 game schedule, but this year it got shortened to 11. This may not seem like a lot, but if a player gets the virus they have to miss another two games, which can hurt them if they are trying to get drafted. 
A new proposal was also approved saying that any team that has a minority head coach or general manager is able to get extra picks in the third round of the draft. This aims to create more diversity in the league. There have been a lot of opinions being thrown around about the new rule. Phinn Mindak, a sophomore at Westfield High School stated, "I think this rule is not necessary. While I think that it is important to create more diversity around the coaching staff, there are better ways to go about doing this."
This will be happening for the next two drafts, and the teams that fall under this category will get three extra picks in the third round, which can be big for these teams. USA Today explained, "A team that loses two minority staffers to head coach and general manager positions would receive three third-round picks."
Some people believe that teams will most likely try to fire head coaches and general managers, just to be able to get these picks, which can create a lot of trouble and controversy around the league. 
In conclusion, the 2021 NFL Draft will certainly be different than what everyone is used to. With tons of different players and rules, everyone will all have to learn to adapt. Fans still don't know if the draft will be in person or if they will have to watch it from home. One thing is for certain, and that is that fans will be able to enjoy it, and have the chance to see some of their favorite teams draft some of the best college football players.