Face coverings take over the U.S.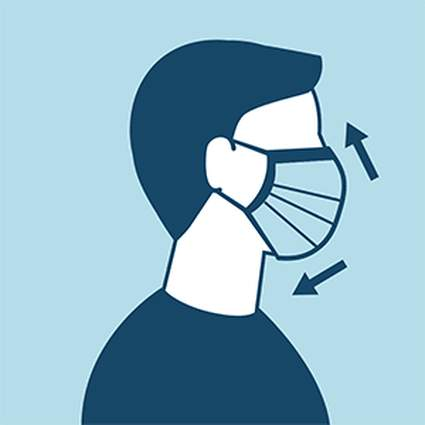 All throughout the globe, from medical masks to bandanas you can just about find a face covering anywhere. In stores, on the streets, and online, face coverings have become an important feature in our lives. 
In the beginning of 2020, the coronavirus completely completely destroyed the world as we know it. As doors closed and people went into isolation, our society was given expectations to better ensure our protection. as communities began to come back together, everyone would be required to not only social distance, but also wear a mask. Although sometimes we are caused great discomfort from wearing these tedious items, without them we would be more susceptible to the virus, ultimately, this means that the few tasks we are able to do now, would also be abolished. 
When school began, it added another place to the very long list of locations we have to wear masks. All of Edison Intermediate School's (EIS) staff and students were held responsible for bringing and wearing a mask everyday they attended school. Among these people is school nurse and health teacher, Mrs. Patricia Kelly. Over her many years of medical experience Mrs. Kelly has learned a great deal of information about safety and the importance of maintaining a healthy life. Mrs. Kelly revealed that it does not matter the type of mask, but the quality and efficiency of it. She continued to explain that any effective face covering must be tight, well fitted, and cover your nose at all times.
EIS is temporarily all remote in response to the recent Thanksgiving break. This break from school is to allow students who traveled for the holiday to quarantine before their return to school. The use of public transportation is a very controversial activity during this time, some people are very skeptical while others believe that following the proper safety rules will lead to safe traveling. Mrs. Kelly shared, "I personally have not traveled during this time but I hear that planes are supposed to have great ventilation, so as long as you quarantine after it should be okay."
Prior to our leave, Mrs. Kelly was able to closely observe and assess the school's precautions against the virus. She stated, "I think the custodians are doing a great job cleaning everything over and over and I think that the kids are very socially distant." 
Clearly, the efforts conducted by the staff and the kids are paying off because EIS has been able to keep a steady and continuous streak with in school learning. This clean record sets high standards for when we return to school later this month.
Although the school is taking a brief pause from hybrid learning, students still continue to hang out and meet with their friends beyond the walls of EIS. Sometimes, these gatherings can end in disaster if not all of the people are corona free. "I think it's okay when you're hanging out with a couple of people that you have been with for this time of events. The problem is that when one or two people from the group go out and see others from different states or towns they could possibly bring the virus with them," shared Mrs. Kelly.
During this time it is important to do everything you can to not only keep yourself safe, but your friends and family as well. Therefore, wearing a mask is extremely important and should be done by all of society.
The outcome of these horrific events have been very life changing to many; not just adults but too the youth as well. Seventh grader Saige Levitt commented, "I've had a lot of experiences with COVID tests since I've had many incidents where I've been exposed to the virus but every time I went to go get tested there were lines all down the block waiting to get tested and people in hazmat suits, it's crazy to see what our world has become." 
Experts and scientists have been working for a while to try and find a cure to this deadly virus. Some people say the vaccine will be here by March, January or even December meaning any day now. Although there really is no way of telling when we will go back to normal, or if we ever will. Having to quarantine for two weeks is something a lot of people dread. "When I had to quarantine it was awful, not being able to see my friends or loved ones, being isolated in my house, it was like my worst nightmare had come true." stated Saige Levitt.
Many children are being robbed of their childhood, missing out on celebrating major milestones and having to cancel on the fun trips and adventures you would go on at that age. By wearing your masks you're doing your part to help society try to make its way back to normal. 
Many people wonder about the effectiveness of masks during this pandemic. Some might believe that these seemingly insignificant items do not provide protection, it is approximated that wearing a face covering of any kind can reduce your chances of catching COVID by 40%. With all the unpredictable occurrences this year, even the slightest bit of reassurance is a huge deal. To further convince those who do not believe, studies have shown that if mask use had been universal in the beginning of this year 130,000 of the deaths that occured could have been prevented. Obviously, face coverings play an important role in our fight against COVID-19.
2020 has changed a lot in our world, but together we have to adapt and make change so that our future can be bright. Even though wearing a mask does not reverse the circumstances around us, it keeps you, your family, and your community safe and protected. With all that has happened the safety of ourselves and others is important and everyone should put their health first. From the beginning of quarantine to now it's been a rollercoaster but our world has definitely gotten somewhere while taking safety precautions and wearing a mask. So to prevent further spread going into 2021 make sure you mask up EIS!