Youth Athletes Suffer due to COVID-19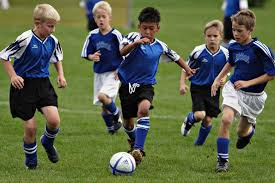 Athletes all over the world are suffering due to COVID-19. Gyms are closed, leagues are canceled, and returning to play for many sports seems unlikely. In particular, youth athletes face many inconveniences. Many practices, games, or even entire seasons have been canceled due to COVID-19 this year. This has had a major impact on these children's lives as they no longer have any organized sports to play. As coaches see the struggles that some athletes are encountering with no sports, they continue to try to do their best to keep their teams practicing as long as they can.
Jack Elfstrum, an eighth grade lacrosse and soccer player who goes to Edison Intermediate School (EIS) expressed how COVID-19 has affected youth sports. "I think that it is safe to play outside as long as coaches, parents, and refs are wearing masks and forced to stay away from players" he stated. "I do think that indoor sports are a lot more dangerous and therefore teams need to take extra precautions to stay safe. I can see my indoor season being canceled in the next month or so since cases keep rising."
In New Jersey cases have been spiking drastically. Each day there have been a record amount of new cases set. As a result of this, the state is seeing many more deaths. While leagues around the state are trying their best to keep seasons up and running, they must keep player's and families' safety priority and that means shutting down leagues across the state is the best option. 
In early December, New Jersey Governor Phil Murphy banned indoor sports until January 1st. This caused many basketball teams as well as other indoor sports like box lacrosse and hockey to shut down. Some teams tried moving their games and practices outside, but as the winter looms closer the cold weather makes it impossible to play outside all winter long. Governor Murphy stated, "I hope and intend to see the winter sports season in January. I want to see especially that high school senior get to play her or his last season. And I value the importance of sports for the physical and mental well-being of our children."
Many athletes are wondering what is in store for them in 2021 now that a vaccine has been approved. Will spring sports be able to happen? Will we be able to have indoor sports? According to USA Today the public may get a vaccine very soon. USA Today explained, "The general healthy U.S. population is expected to have access beginning in April."
This means that many spring sports will likely have their seasons and we may go back to normal. However, there are a lot of challenges regarding the vaccine, and cases must drop significantly before we even consider starting indoor sports back up. 
All in all, athletes' futures are uncertain. However, if all goes to plan, seasons should resume in the Spring and we can go back to playing with our teams. Athletes may have to socially distance and keep contact to a minimum, but the important thing is that they will be able to get back onto the court or turf and play like normal times once again.