"Annie Jr." proves that 'Maybe' there is a way to overcome the pandemic
The last year has been a 'Hard Knock Life' for everyone and has shut down many sports, programs, and activities. Luckily, the wonderful team of students and teachers at Edison Intermediate School (EIS) found a way to produce an amazing show despite the virtual challenges. 
To start, before the COVID-19 pandemic, musicals and plays were performed on the EIS stage in the auditorium. Musicals like "Beauty and the Beast" and "Sound of Musical", as well as plays like "Aladdin" and "Clue" were all performed on the EIS stage. Now the COVID-19 pandemic has changed how the performances are displayed.  
On May 14th-15th, 2021, the pre-recorded version of "Annie Jr." was ready to be shared with the EIS community. Green screens, rehearsals, computer-generated imagery (CGI) editing, and a lot of filming went into the show. However, COVID safety for the students and staff was the primary concern. Dr. Matthew Bolton, the principal at EIS stated, "There were many factors that went into the show, but most were around student safety. However, I have an incredible amount of trust in Mr. Altmann, Mr. Horn, Mr. Markowski, and Mrs. Varhley and I knew they would pull off an incredible show." 
To add, despite the COVID-19 regulations, the drama department at Edison found ways to work around the guidelines. Scenes were filmed over a program called Streamyard, as well as on the stage at EIS with the entire cast and crew wearing masks. Mr. Kenneth Horn, a Vocal Music teacher at EIS and the producer of Annie Jr, was in charge of filming and editing the entire show. He, as well as his film and camera crew, worked tirelessly to put together a virtual performance. 
Due to the pandemic, the eighth grade students at Edison did not think they would have a final show. They were pleasantly surprised when they found out that they would get their final bow in "Annie Jr.". Nadia Rego, an eighth grade student who played the role of Ms. Hannigan, shared, "A lot of things were canceled for us and there were a lot of things we had to sacrifice due to the virus, so I was really excited that there was a musical! Doing the shows after school is one of my absolute favorite things at Edison; something that makes me really happy. I'm really glad we didn't have to give it up completely!" 
Alexa Marquet, an eighth grade student who played Annie, shared the challenges of playing a lead role partially in person and partially at home. "The hardest part was having to film some scenes in my room. It's much easier to be in the auditorium with the rest of the cast, but when I am alone in my room it is definitely challenging". 
Additionally, many crew members share their experiences with a totally different type of show. Ignacio Marro, an eighth grader and the head of the props crew stated, "It's easier pre-recorded because you can do retakes and also during a show if someone messes up, the show must go on, for the cast and crew." 
Also, Suzanna Rogers, an eighth grade student and the head of the costume department says, "It was harder to communicate with the cast and get them the costumes they needed online, but it was a quicker process getting dressed than getting dressed in-person." 
Furthermore, even though there were many complications for the cast and the crew, the magic that is made on the stage at EIS, shined through the screen. Mr. Michael Altmann, the director of "Annie Jr", was confident that despite all of the setbacks, his team of students and teachers would still put on a great production. The message of strength, unity, and overcoming obstacles sticks out in Annie. Mr. Altmann, drama and public speaking teacher, expressed "When Mr. Markowski and I sat down to come up with ideas for the spring musical, we wanted a show that gave us hope and fun. Annie was a no-brainer. It was fun,  had familiar songs, a story we all love, and a message that 'Tomorrow' is only a day away."
About the Writer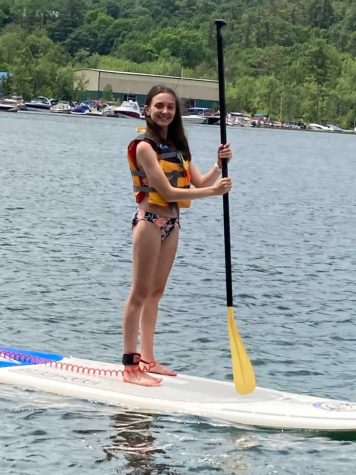 Olivia Lawrence, Writer
Olivia Lawrence is a writer for the Edison Insider. In addition to writing in the newspaper, she is a competitive dancer who loves to play with her two...