Teachers reveal their feelings on going back to school five days a week
Over the past year, we as a country, community, and a school have been taking steps to reach normalcy again. One of the necessary steps is students going back to school full time for the rest of the 2020-2021 school year.
Previously, in 2020, Edison Intermediate School (EIS)  majorly changed the schedule to accommodate the hybrid learning style so students can learn in school and at home. Students that attended school in-person only had a half-day of in-person instruction with the rest of it being at home. The students that were learning remotely were going through their school day as usual but in their own homes. Additionally, on Wednesday's everyone was virtual while the school was being cleaned. While this schedule was in use, teachers had a lot of time after school on Wednesdays since there was no official lunch break. Now, Wednesday follows the same format as the other school days and now teachers are getting their extra time on Wednesdays reduced. Mr. John Stasi, Social Studies teacher at EIS stated, "Prior to the change in schedule, my Wednesday afternoons were spent in staff and department meetings." 
Also, Mrs. Sandy Boutsikaris, a Language Arts teacher at EIS explained, "I would schedule time with that student as well if they could not come to extra help any of the other times that had been built into the schedule that week."
In addition to Wednesday's following a regular schedule format, all students in any cohort will have the option to return to school five days a week. Students who are virtual may choose to switch to in-person learning and hybrid students may want to continue in-person instruction or switch to remote learning. However, there will no longer be students attending two days per week. This will give many students a chance to interact with their teachers and classmates for the first time in months. While there are some teachers that aren't huge fans of the new schedule, there are many teachers that do find it beneficial. Mrs. Boutsikaris explained the benefit of returning to school for students: "Students are coming to school on a regular basis which is very good for them mentally, emotionally, and academically. I think it is a positive step to having more students come to school for in-person learning if that is the safest choice for them and their families." 
On the other hand, teachers have concerns about the new schedule based on what has gone on during the year 2020. Mr. Richard McNanna, a special education teacher at EIS expressed, "I'm finding the gradual transition back to 'normal' life harder than I expected it would be — large crowds are uncomfortable, I have no desire to sit in a restaurant, and the amount of people who will soon be in school five days a week is a bit jarring for me."
Dr. Matthew Bolton, the principal of EIS shares his thoughts on the new schedule, "I feel that if we are all coming back to school, we need Wednesday to be a typical day if we can accommodate 5 days a week for students." 
Also, he revealed that he wants to make the schedule predictable in order for students to have an easier time knowing which class is when. 
Teachers also said what the benefits of the new schedule are. While there are many pros and cons that people could think of, teachers primarily found how the schedule can benefit them and their students. Mrs. Debbie Vezos, a Language Arts teacher at EIS revealed, "The benefit that I see to the schedule is having students in person more often." 
Additionally, Mr. Stasi stated, "I truly believe that, as long as we can do it safely, we need to get back to full-time in-person education.  Virtual learning was okay at best during the time when the pandemic was raging in our area." 
To add, part of the new schedule teachers are finding the benefit of having a specific time that students can come virtually to extra-help. Mr. Stasi added, "I found that this year, more students come to extra help virtually to ask questions if they need help with an assignment. It also gives me a set time that I am available as well as the ability to schedule specific appointments to meet with a student if needed."
To close, many teachers find the importance of students returning back to school 5 days a week. Mr. Stasi declared, "I strongly believe that a monitor is no substitute for what takes place on a daily basis inside the amazing classrooms at EIS!"
About the Writer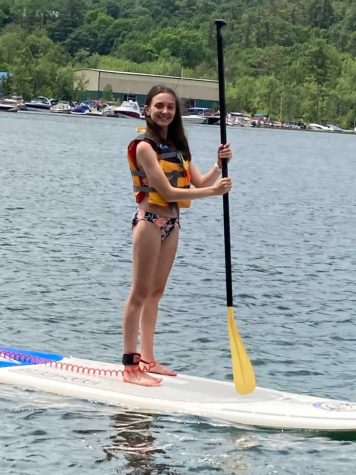 Olivia Lawrence, Writer
Olivia Lawrence is a writer for the Edison Insider. In addition to writing in the newspaper, she is a competitive dancer who loves to play with her two...