Concert-goers effected by cancellations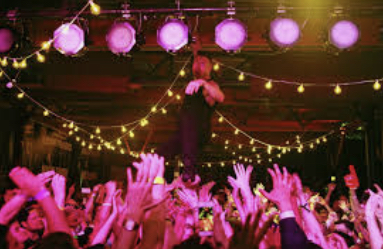 Hundreds of thousands, maybe even millions, of people were going to concerts all around the world.  It gave them a chance to let loose, to have fun with their friends and family, while seeing performers they love.  Unfortunately, the corona-virus broke out, causing a pandemic, and cancelling almost everything.
Particularly, concert cancellation has affected their employees, the performers, the attendees, and so many more.  According to the Chicago Tribune, the concert industry has lost at least 30 billion dollars due to COVID-19.  All the people who work at the concert places, like directors, managers, back stage hands, and tech people have either lost their jobs or aren't earning any money from them.  The concert performers have also not been able to make funds from performances; they are relying on money they earn from releasing albums, or promotion on social media.  Some musicians have transferred to online concerts, which are accessible by link after buying a 'ticket.'  For some artists, the pandemic has allowed them to really open up creatively.  Taylor Swift came out with two albums over the pandemic.  She must have had so much more time since 16 of her concerts were affected.
The people who go to concerts and/or plays are also affected.  Fans who have been waiting really long to be able to see their favorite musician or watch their favorite actors perform had already bought tickets, and they didn't get to see the performance, and some people didn't even get refunds.  Examples of venues that have been affected are places like Broadway, Madison Square Gardens, or Rockefeller Center, and many more.
Madame Young, sixth and seventh grade French teacher, is a frequent concert goer.  She was scheduled to see Taylor Swift, the Lumineers, and Def Leppard.  While they've all been cancelled, two of them were tentatively rescheduled.
The small in-town productions have been affected too.  Last year, the only theater group out of the Westfield Public Schools that was able to showcase their spring musical was Edison Intermediate School.  Many students, staff, and others were very excited for the High School's production of 'Chicago.'  Not only was the audience disappointed they wouldn't get to see it, for the high school seniors, that was their last production; and it was ruined.  They put in all that hard work and their show was cancelled before they could have a production.
Additionally, all Broadway shows were shut down and the industry lost billions of dollars due to the coronavirus.  Tanis, eighth grade student, was supposed to go see Beetlejuice on Broadway, however the show was cancelled.  Lizzie, another eighth grader, had tickets to see Moulin Rouge on Broadway, but that was cancelled too.
On top of that, Mr. Varhley, eighth grade history teacher, and Mr. Belline, sixth and eighth grade math teacher, had tickets to go see The Black Crowes, Zac Brown Band, Dave Matthews Band, Trey Anastasio and Phish.  Mr. Varhley likes going to a lot of different concerts but those are the ones he had tickets for before they were cancelled.
Furthermore, Mr. Crutcher, eighth grade math teacher, was going to see Florida Georgia Line in Nashville, Tennessee before their concert was cancelled; though it is possibly going to be rescheduled.  While Mr. Crutcher does go to concerts, he isn't a huge concert goer.
Whether someone is a frequented concert goer, a fan, or just a spectator.  All those people were robbed of the chance to see a performance and appreciate all the work that went into it.  Plus, all the performers and people backstage weren't given the chance to perform and show all their hard work and how much they'd been practicing.
The performing industry is one of the places affected the most by COVID-19.  Unlike restaurants, concerts can't open with reduced capacity.  Some jobs allow their employees to work from home because they have the resources.  An online concert is the equivalent of a live video, except the difference is you have to pay for it.  From small in town productions, to Broadway, to the Hollywood Bowl, the industry of performing arts is one of the most affected and will take a lot of time to return to its original state.