Sports fans miss the stadium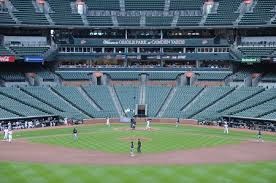 The world of sports is without fans for the first time ever.  There are limited fans in many stadiums, while other stadiums have none. The average NFL Stadium had 6,436 fans in their stadiums compared to the normal 66,151 fans during a loud, intense, electric NFL game. Defensive players had less offsides due to less fans and offensive lineman could hear their QB's signals better. The question is, when will fans be back in stadiums and how? NFL stadiums are some of the biggest in the United States and it helps a lot for the home team when they have all of the stadium cheering and chanting for them.  The NFL makes a ton of money off of the fans so to not have them in the stadium hurts them financially.  
There are a few stadiums that allowed fans in the NFL and they were given an advantage for having a home field with chants and real fans.  The stadiums that were allowing fans were Kansas City, Jacksonville, Cleveland, Dallas, Indianapolis, miami, Denver, and New Orleans these were the only teams that were allowing fans through the first part of the season.  In week 15 closer to the end of the season there were a few more.  Atlanta, Dallas, Tennessee, Indianapolis, Miami, New Orleans, Cincinnati, Kansas City, Houston, and Buffalo and Green Bay had fans for the playoffs but there weren't too many.  Without fans sports just doesn't feel the same for some athletes.  I can imagine that it is hard to adjust to this if you are one of the veterans of the sport because you are so used to it but it is a nice way for the rookies to adapt.  Stadium capacity increased over the season not by much but it did increase and more stadiums and cities allowed fans over the season. 
How will we get back into packed stadiums? The answer, vaccines. Vaccines stop the spread of COVID-19 and can help get us back into stadiums. People who have vaccines should be the only people to go into stadiums until COVID-19 cases are low and the entire general public has it. According to Dr. Fauci, "So it probably will be well into the end of the summer before you can really feel comfortable [with full sports stadiums] – if a lot of people get vaccinated. I don't think we're going to be that normal in July. I think it probably would be by the end of the summer" (CBS SPORTS/FAUCI). 
This shows how as soon as vaccines come to kids and the  public, we could go back to being in stadiums. Secondly, New Zealand did it. Even though they have a smaller population than the US, they have almost completely eradicated COVID-19 and now have sports fans packed in Rugby stadiums. "On Sunday, 40,000-plus New Zealanders filled in the stands at Auckland's Eden Park for a game between the Auckland Blues and Wellington Hurricanes in the Super Rugby Aotearoa. Saturday's match between the Otago Highlanders and the Waikato Chiefs brought in an estimated 20,000 spectators at the Forsyth Barr Stadium in Dunedin…The country, which has a total population of about five million, had just over 1,500 confirmed COVID-19 cases and a total of 22 deaths"(CBS SPORTS). 
This shows that with New Zealand's strict four week lockdown, they were able to have fans and have little to no COVID-19 deaths. Maybe this is what the US needs to do to go back to normal. 
To wrap it all up, there are a low amount of people in stadiums right now in the US. But, if we get vaccines or lockdown we could go back to normal and be back in packed stadiums. If we keep this pace packed stadiums could be in the near future.